Playing with your guinea pig will always strengthen your bond with them. Guinea pigs always enjoy playing, but if your guinea pig is not playing with their toys anymore, that means there is something wrong with them, and we must investigate it immediately.
If your guinea pig is not playing, then a poor toy selection or rotation might be the primary cause. Guinea pigs are finicky, and they get bored quickly. Keeping a constant rotation of toys to keep them engaged is crucial. If your guinea pig is in pain, they'll not enjoy playing either.
Your guinea pig may lose interest in playing if they are in shortage with their toys.
Guinea pigs are very selective, and they also get bored very soon. So keeping that in mind, you must remember to change their toy supply regularly.
It would help if you also kept an eye on their health conditions. If they are ill, they will be interested in playing. As guinea pigs are prey animals, they are very good at hiding their pain.
Naturally, your guinea pigs start becoming less energetic as they start growing older.
With the downfall of the energy level, guinea pigs become less interested in performing any active activity.
You should always consult a vet when you notice any changes in your guinea pig's behavior as it can also lead to some health issues.
Before you read further, Here are some of our popular books that provides you great value. You don't want to miss them out!
Guinea Pig Diet Plan: A Complete Guide To What Your Guinea Pigs Can Eat
In-Depth Understanding Of All Aspects Of Their Diet

List Of Vegetables And Fruits Guinea Pigs Can Eat

Importance Of Vitamin C and Calcium+ How To Balance It

Toxic Food To Our Guinea pigs

Water For Your Guinea Pig (How It Can Lead To Bladder Stone)

4 Complete Diet Chart To Follow With Veggie List
Guinea Pig Care Book: A Definitive Guide
Learn All About Setting Up Perfect Living Environment

An Overview Of A Guinea Pigs Diet

Understand Common Behavior And How To Deal With It

An Insight On Common Health Problems And What To Do About It

A Complete Care Guide To Keep Your Guinea Pigs Healthy and Happy

Covers All The Practical Aspect Of Keeping Guinea Pigs
Guinea Pig Coloring Book: Let Your Anxiety Go Away!
50 Unique Coloring Designs

Only One Design Per Page

Printed On Good Quality White Paper With Glossy Cover

Sized At 8.5x11, A Perfect Size To Color And Frame!

Hours Of Fun And Relaxation For Adults As Well As Kids
Please note: Guinea pig 101 is reader-supported. As an Amazon Associate, I earn from qualifying purchases made by our readers with no extra cost added to you all! Some links in the post are affiliate link and I get commission from purchases made through links in the post.
Why is my guinea pig not playing anymore?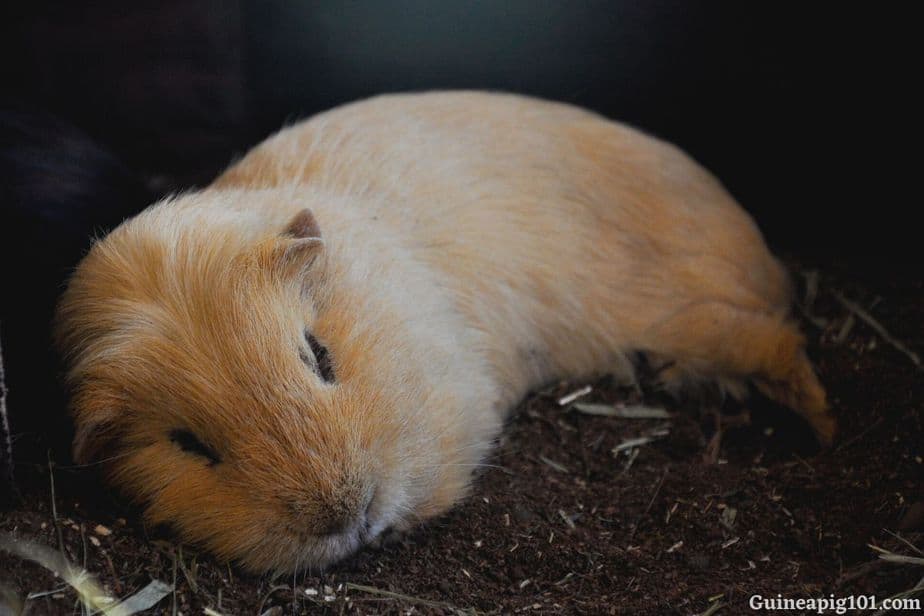 Guinea pigs lose their interest in playing with their growing age. They will turn out to be less active as time moves on.
But it is a gradual process and not an overnight thing. If you notice a sudden change in your guinea pig's behavior, there is something wrong with them, which you should investigate.
It could be a mental or physical reason for their sudden change in behavior. If you find your guinea pig not moving around, but is healthy, it is likely to be a physical illness.
If they are ignoring all types of contact, then they could be going through an emotional phase.
Some common reasons for a guinea pig not wanting to play include:
A guinea pig avoiding to play doesn't conclude that they cannot come back to their natural behavior. Once you are successful in detecting the problem with your guinea pig, you can help them return to their natural behavior.
How do guinea pigs like to play?
Guinea pigs are fond of playing, but they are particular as well. If you want them to enjoy certain games, you will need to act in the following manner:
If you follow these steps, your guinea pigs will always enjoy their playtime.
Do guinea pigs play with humans?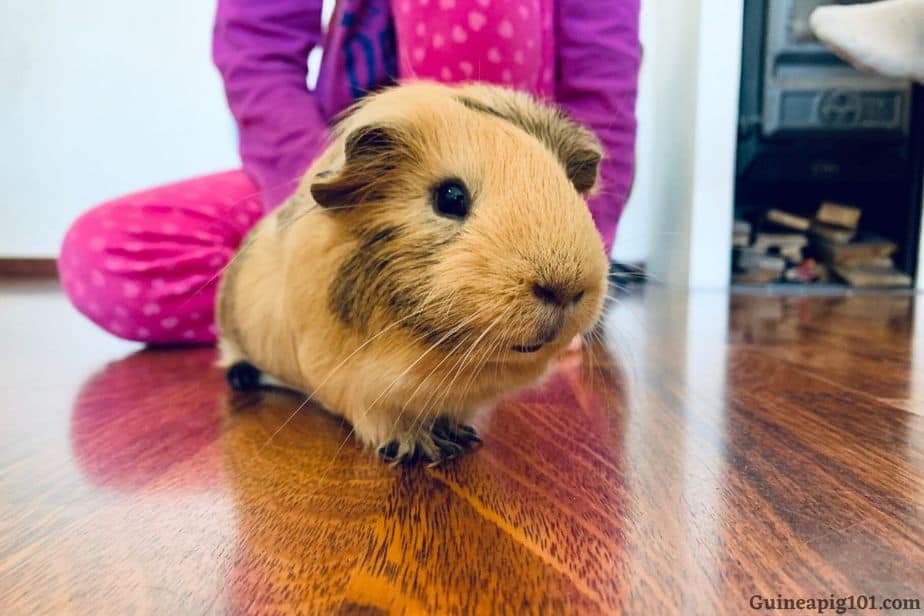 Yes, Guinea pigs are very fond of social attention. They will enjoy playing with you if you have a healthy bond with them.
But in case if you don't have a good bond with your guinea pigs, they will be uncomfortable in your presence.
Once you are successful in making a bond with your guinea pig, they will start enjoying your presence, and you can also involve yourself in their playtime.
We will advise you not to play with your guinea pig until and unless you share a good bond with your guinea pigs. They must enjoy the time around you and should not be in constant stress.
Once you develop a good relation with your guinea pig, they will start enjoying your company, and then you are free to play with them.
How often should I play with my guinea pig?
You can play every day with your guinea pigs if you share a good bond with them. But you must remember not to play against their will.
If they are in no mood to have playtime, then kindly do not force them as it might upset them.
Guinea pigs always like to make their own decision as they do not want to be forced.
If you try to force them for playtime, then there are chances that they might be upset form you, which can also affect your bonding with your guinea pigs.
What games can you play with your guinea pig?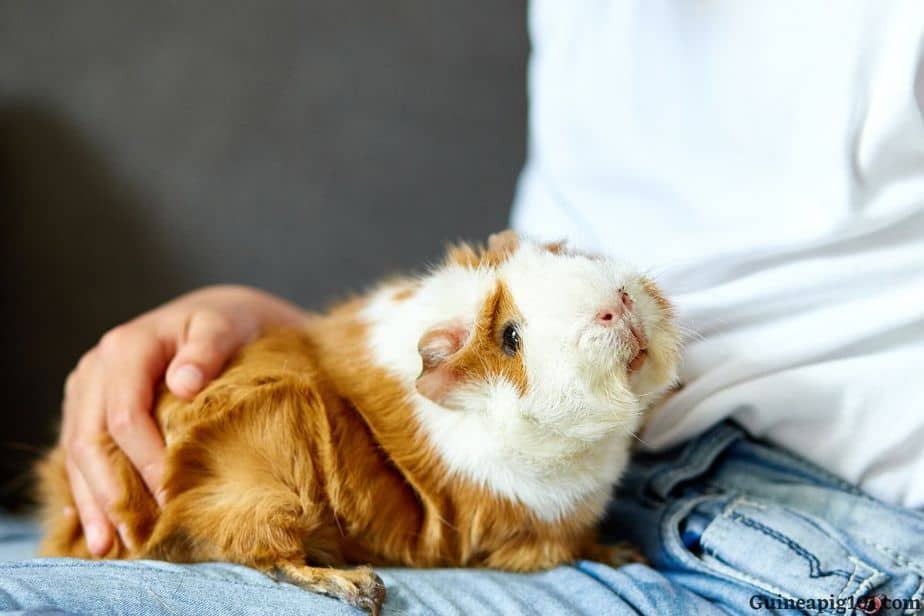 You should know what your guinea pigs enjoy playing.
Let us learn about some fun games you can play with your guinea pig:
There are many other games you can play with your guinea pigs to keep them fit and healthy.
Just remember to follow all the rules for playing with your guinea pigs. Try not to wrestle, and do not handle them in a wrong manner.
Recommended Supplies For Guinea pigs: Our Top Picks!
Before you learn more,here are some hand-picked supplies for your guinea pigs that you must add to your wishlist today:
How do I know if my guinea pigs want to play?
Guinea pigs understand their own minds, and they will let you know when they want to play. Some actions they do when they want to play are as follows:
You must know that guinea pigs are more active in the morning and during the dusk. As at these times, they wake up in an active mode and are most likely to play.
Never force your guinea pig to play against their will as they might not understand this behavior of yours and can take you as a predator. It can also cause stress and can affect your bond with your guinea pigs.
How do I know if my guinea pigs have finished playing?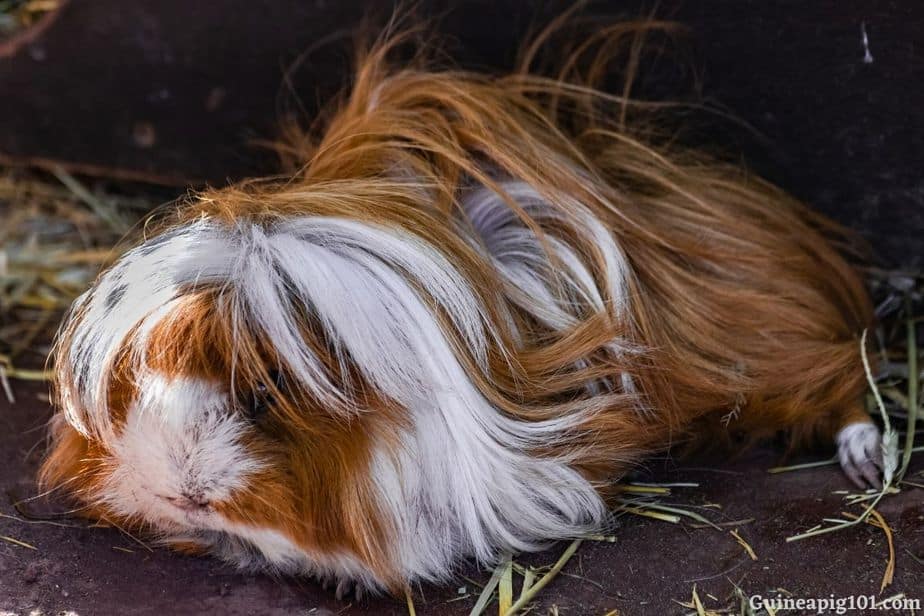 Guinea pigs will not hesitate to tell you that they are finished playing, and now they want something else.
Let us go through some of the guinea pigs behavior that tells us that their playtime is over:
From the above explanation, we can conclude that we should not force our guinea pigs to play more when they start showing signs to stop.
Kindly let them end their playtime when they want to as they do not have as much energy as humans, so they cannot play for a longer.
Guinea pig not playing with its toys
Toys are an essential part of their guinea pig's life. They remain delighted with their toys as it helps them to keep their teeth and claws healthy.
If you fail to fill your guinea pigs cage with toys, you are creating a problem for yourself.
When guinea pigs wake up in the morning, they are full of energy and likely to play. And if they have got nothing to entertain themselves, they will turn into noisy and boisterous.
You may also discover your guinea pig losing all interest in their toys, though.
We have some possible explanations regarding this context. Come, let's go through that:
Signs of boredom in guinea pig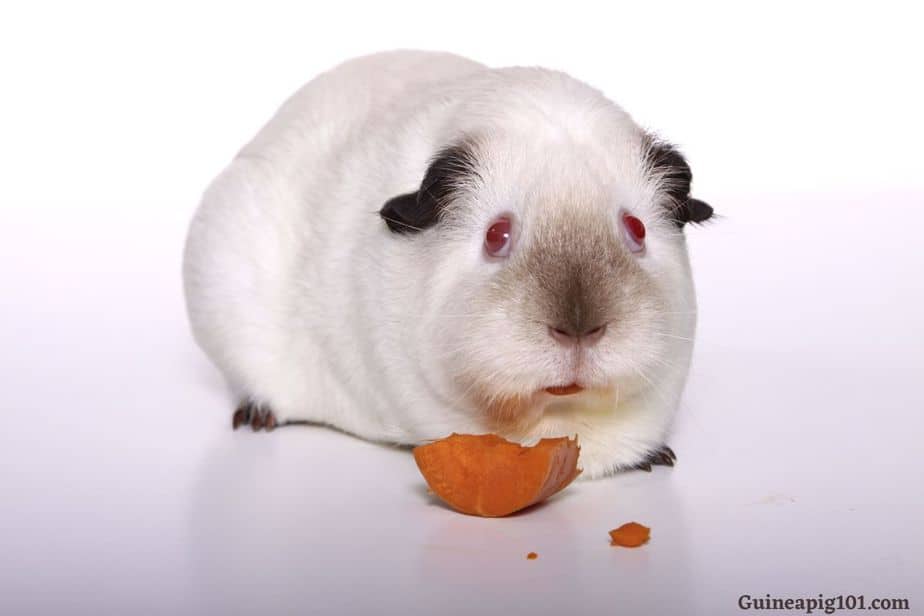 Boredom is not good from our guinea pigs, as if they are bored, they will do all unsuitable and unsafe activities.
Let us go through the behavior your guinea pig will adopt once they are bored:
Destructive Behavior: Once your guinea pigs get bored, they will adopt destructive behavior and start biting their cage. That could include the wire or the woods of the cage. By doing this, they can even hurt themselves.
Overeating: When your guinea pigs get bored and have nothing to do, they will prefer eating. That will result in weight gain and health issues. But, the right side is that the guinea pigs cannot overeat hay.
Immoderate Grooming: This is the most significant symptom. Your guinea pig will begin to pull down their fur in clusters.
You cannot just provide toys to your guinea pig and sit back.
It would help if you noticed whether your guinea pig is enjoying playing with those toys or not.
And if they are not enjoying, you should replace the old toys with the new ones considering your guinea pig's preference.
Buying expensive soft toys from the market is not required.
You can make them new toys with household items like cardboard tubes and boxes. Just make sure that whatever you make is safe, and chewable for our guinea pigs.
My guinea pig is not running around
As soon as your guinea pigs grow older, they are less likely to run around as they don't have that physical strength as they used to have when they were young. 
But as it is a gradual process, it takes time. It cannot be done overnight.
If your guinea pig suddenly stops running, check whether they have injured themselves. If you cannot detect anything by yourself, that doesn't mean that nothing happened. X rays and Scans must be taken into consideration. 
Some elderly guinea pigs can be prone to arthritis. Following are the symptoms of arthritis: 
My guinea pig won't come out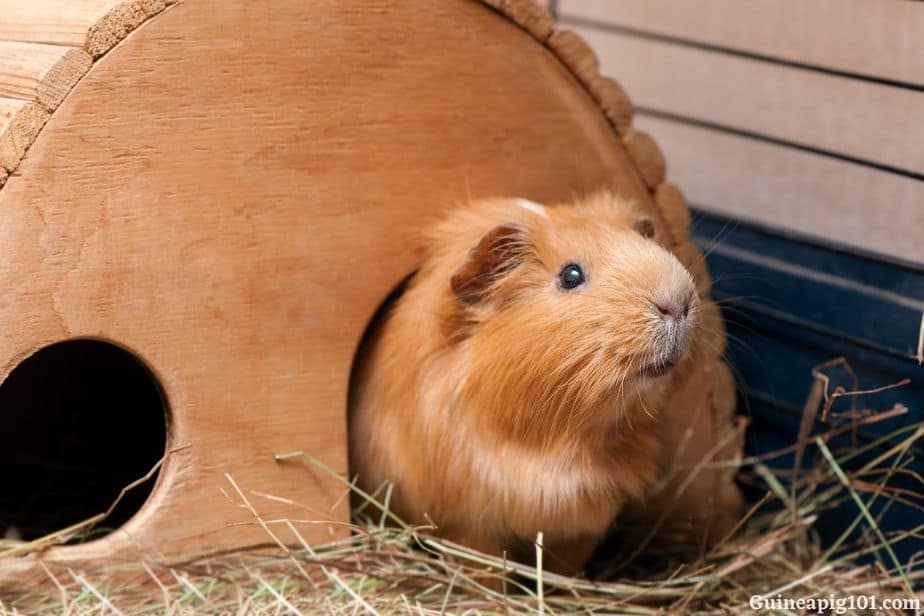 If your guinea pig is not coming out of their cage, it means that they are uncomfortable or scared.
You will need to make them satisfied that there is nothing outside that can hurt them.
You can do this only if you have a great bonding with your guinea pig. Otherwise, they will not trust you and will consider you as their predator.
It will then become more difficult to convince them to come out of their cage.
You can place a cardboard box in front of their open cage. That can help the guinea pig to move from one place to another.
By doing this, they can also regain their confidence, which is a good sign. But if even this technique fails, then the issue is more likely to be medical.
You should then consult an experienced vet who can help your guinea pig to come back to their natural behavior with all proper medications.
Lastly, we would like to advise you to take care of your guinea pig as they are delicate.
Always try to give them a hygienic environment, which will prevent them from many diseases and will also improve their lifestyle. In addition to this, always shower them with all love and care.
---
Sources: A water-maze test of learning ability for guinea-pigs, Brain and body growth of guinea-pigs, Care of Guinea Pigs, Petsaver guinea pig guide, Guinea pig care.