So you want a guinea pig, but then you are confused about whether you should get one, a pair or more? Many pet shops have single guinea pigs, and they are more than happy to sell you an individual pet but can a solitary guinea pig live happily?
If you come to visit a breeder or a rescue, then they will incline you to have at least two of them if not more.
So now you must be confused about whether you should get a guinea pig or more? And if you happen to get a guinea pig due to any reason then will you be able to keep it happy? Can guinea pigs live alone? Let's find out the truth.
It is ok to have one guinea pig, but it is best to go with a pair or more. Guinea pigs may show abnormal behavior if left alone. If you have enough time to dedicate to your guinea pig, interact and play with them, then you shall do just fine with a single guinea pig. Else it is best to get a pair or more. 
Although you must remember that it may differ according to the personality of the guinea pig you own.
Suggested article: Male Vs. Female Guinea pigs?
Now many people will have a different opinion on the same. While some would say that it is cruel to have a single guinea pig while others will say that they had one for years and it worked out all good. What should you do?
Before you read further, Here are some of our popular books that provides you great value. You don't want to miss them out!
Guinea Pig Diet Plan For Beginners
In-Depth Understanding Of All Aspects Of Their Diet
List Of Vegetables And Fruits Guinea Pigs Can Eat
Types Of Hay+ How To Choose The Best One
Importance Of Vitamin C and Calcium+ How To Balance It
Toxic Food To Our Guinea pigs
Water For Your Guinea Pig (How It Can Lead To Bladder Stone)
4 Complete Diet Chart To Follow With Veggie List
Guinea Pig Care 101: A Definitive Guide
Learn All About Setting Up Perfect Living Environment
An Overview Of A Guinea Pig's Diet
Understand Common Behavior And How To Deal With It
An Insight On Common Health Problems And What To Do About It
A Complete Care Guide To Keep Your Guinea Pig's Healthy and Happy
Covers All The Practical Aspect Of Keeping Guinea Pigs
Guinea Pig Coloring Book: Let Your Anxiety Go Away!
50 Unique Coloring Designs
Only One Design Per Page
Printed On Good Quality White Paper With Glossy Cover
Sized At 8.5x11, A Perfect Size To Color And Frame!
Hours Of Fun And Relaxation For Adults As Well As Kids
Please note: Guinea pig 101 is reader-supported. As an Amazon Associate, I earn from qualifying purchases made by our readers with no extra cost added to you all! Some links in the post are affiliate link and I get commission from purchases made through links in the post.
Can you have just one guinea pig?
From what I have experienced is it totally depends upon the personality and temperament of the guinea pig.
While some guinea pigs like to live solitarily while others need company, I would recommend that you should go with more than one guinea pig.
The reason being you will not have enough time and energy to dedicate to your pet which can make your guinea pig feel lonely.
Do guinea pigs get lonely?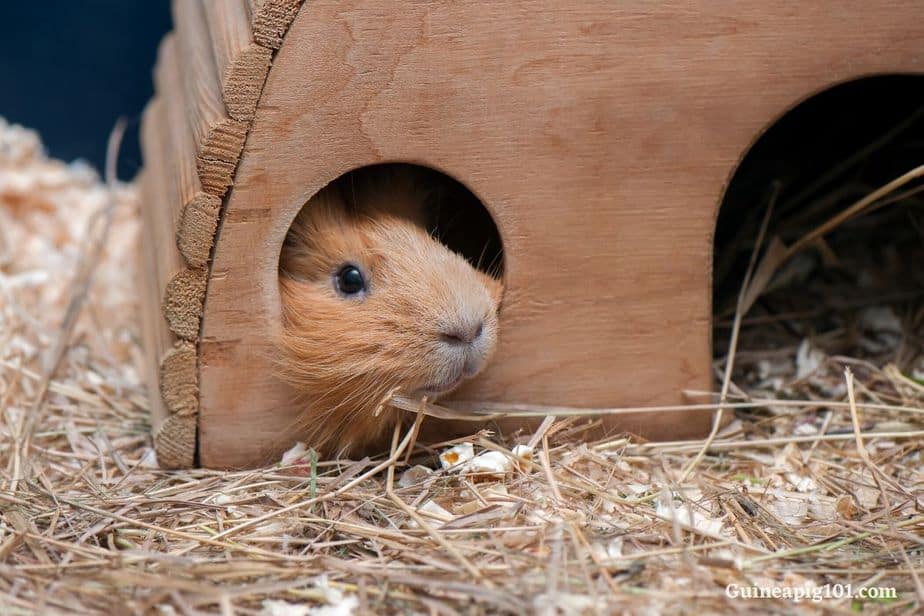 Yes, sometimes guinea pigs may experience loneliness. Guinea pigs are a social animal, and they thrive in a group of 3-5 or even more. Having a single guinea pig is okay but not the best decision always.
If you have a boar or even sow who has been living solitary for a while and doesn't enjoy having a cage mate, then they might be happy living alone provided you give them with all essential needs right from food, water, toys, and interaction daily.
Some guinea pigs are aggressive in nature and will not get along with other cage-mates so in such cases we might have to keep them alone.
You can learn more about dominance behavior in guinea pigs from our article.
Although in most cases guinea pig does well in groups only.
Especially if you happen to have sows then you must keep them in a pair or a larger group.
Signs your guinea pig is lonely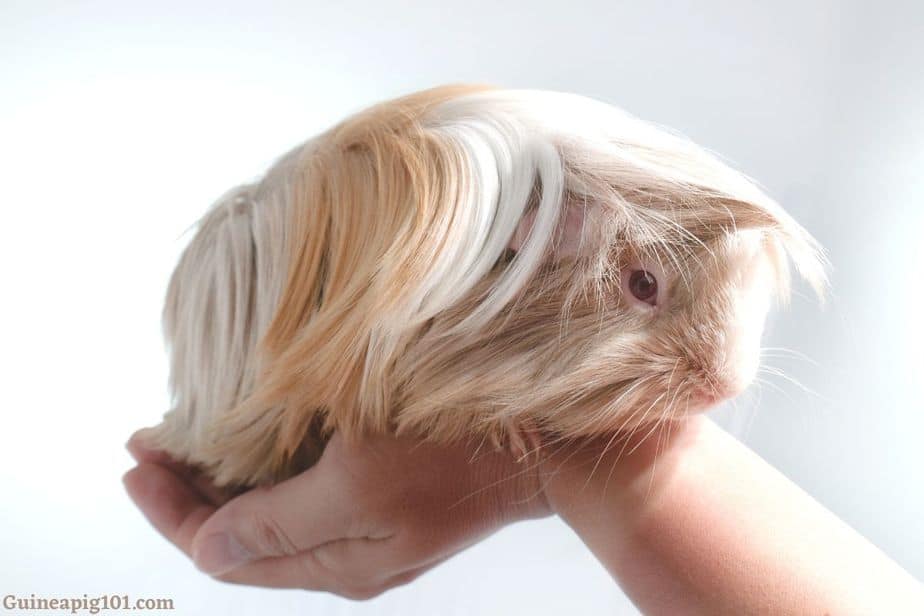 Guinea pigs are social animals and they can get lonely if they are kept single for a long period of time.
Although some guinea pigs enjoy living alone other's don't.
If you happen to have a single guinea pig then you must watch out for these signs of loneliness in your guinea pig:
Loss of appetite
Lethargic, hiding in the hideouts all the time.
Sleeping a lot
Biting the cage bars
Trying to escape through the cage
Developing an aggressive behavior
If you see any signs of loneliness in your guinea pig then taking your guinea pig to the rescue and finding a perfect partner for your guinea pig is really important.
How To Keep A Single Guinea Pig Happy?
If you feel like owning a single guinea pig or already have one, then I would suggest you continue reading so that you can understand your guinea pig's need and keep them happy even if you keep them single.
Also read: 16 Proven ways to keep your guinea pigs happy
Although the best way to keep a guinea pig happy is to keep them in a pair or a group.
But it is not always possible for all. In fact, some guinea pigs are so aggressive that they don't get along with others at all.
So, today I shall share some of the tips on keeping a single guinea pig happy if you happen to own one.
Providing A Healthy Living Space
The basic requirement for keeping a single guinea pig happy is a functional living space.
Being a caged animal they will spend a lot of time in their cage, so having a large enough enclosure for them to eat, play, and hide is essential.
Apart from the basic needs like food and water, the cage should also contain lots of toys, hidings, etc.
A solitary guinea pig needs a lot of stimulation due to a significant amount of time they need to spend alone in there.
Having a lot of toys makes sure that they don't get bored in there.
Chew toys are an excellent choice for mental stimulation in guinea pigs. Not only these help in keeping the guinea pigs busy for hours but are also good for their dental health.
You can go for natural toys like this amazing hay and twig toy made for guinea pigs. Apart from that, some cheap and commercial toys like this Kaytee chew are also available on chewy.
Natural Apple twigs work great for chewing purposes and are safe for our guinea pigs too. Apart from this, you can also go for commercially available chew toys available in the market.
Hidings are another critical aspect that you need to look into in your guinea pigs cage. Having some good hideouts not only helps in keeping guinea pig stimulated but also gave them a sense of security in their cage.
Check out this amazing hay box for your guinea pigs. I bet they will fall in love with them.
Being a prey animal guinea pigs likes to burrow or hide in something when they feel terrified. So having some good hideouts is vital for them.
Apart from these, there are a lot of options out there which you can include in your guinea pigs cage. Tunnels, hammocks, fleece forest, wooden toys are also some great addition to the list.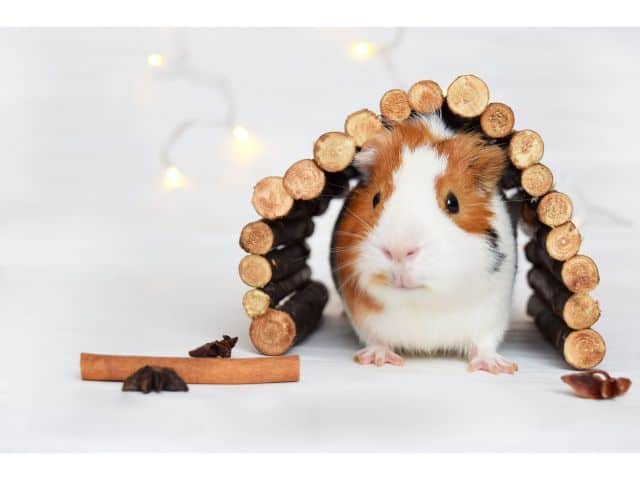 Please Note:
Also, make sure you don't give them all of the toys at once.
Provide them with 2-3 toy and rotate it every few weeks to bring a change and keep them entertained.
Having the same toy for a long period of time can make them bored with the same pretty easily.
Just make sure whatever you decide to add in their cage is safe for your guinea pigs.
Conversing With Your Guinea Pigs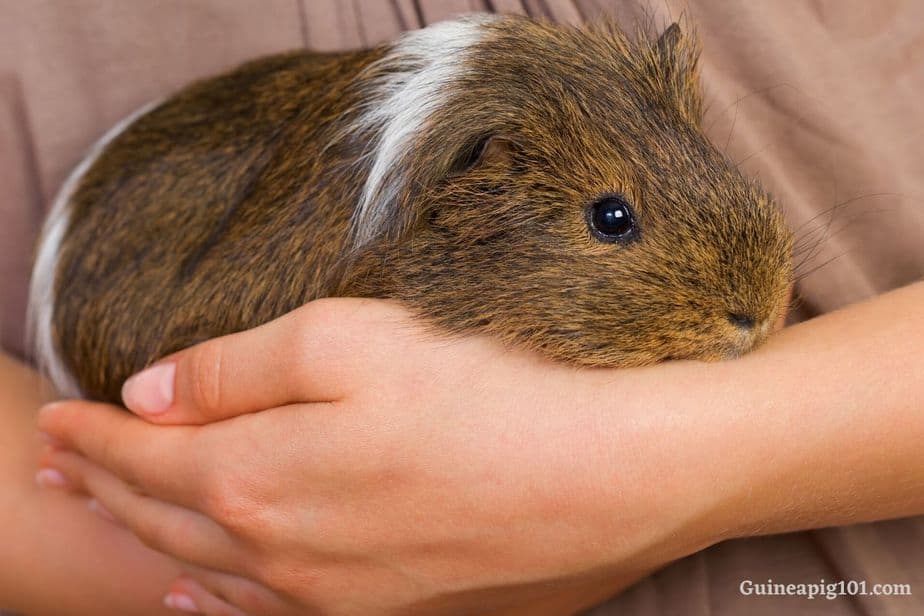 Conversing with your guinea pig is also an important aspect which you need to consider.
Guinea pigs are social animals, and they crave for some interaction daily.
Even though you cannot understand what your guinea pig is saying we can surely learn to decipher their sounds and body language to understand them better.
This is something that most guinea pig owners overlook, but it plays a vital role if you have a single guinea pig.
Suggested article: Understanding different sound of guinea pigs
A solitary guinea pig wants company, so situate the cage in a room where they can see you. Remember, they are sociable animals and that you are now their companion, so be sure to speak or pet the guinea pig each time you pass by.

Pippa Elliott, a licensed veterinarian
Also, placing the cage in the part of a home you spend most of your time in is crucial.
This way, your guinea pig will be able to interact with you and listen to your voice all the time, which will keep them active and entertained.
Calling out there names time and again will help them understand and respond to you accordingly.
You should use some positive reinforcement while talking with your guinea pigs.
If they respond to your talks, give them some positive reinforcement in the form of treats.
A small slice of berries, grapes, carrot, etc. would be a great choice to start with. You can also try these amazing fruit blend treats that are healthy and nutritious at the same time.
Sometimes even one-sided conversation with your guinea pig is good for them as they feel relaxed when they hear your voice.
You can sing them a song, talk to them about any event happening in your life, or share some random talks with them.
Whatever you do, make sure you take some time out to interact with your guinea pigs daily.
Recommended Supplies For Guinea pigs: Our Top Picks!
Before you learn more,here are some hand-picked supplies for your guinea pigs that you must add to your wishlist today:
Providing Them A Lot Of Floor Time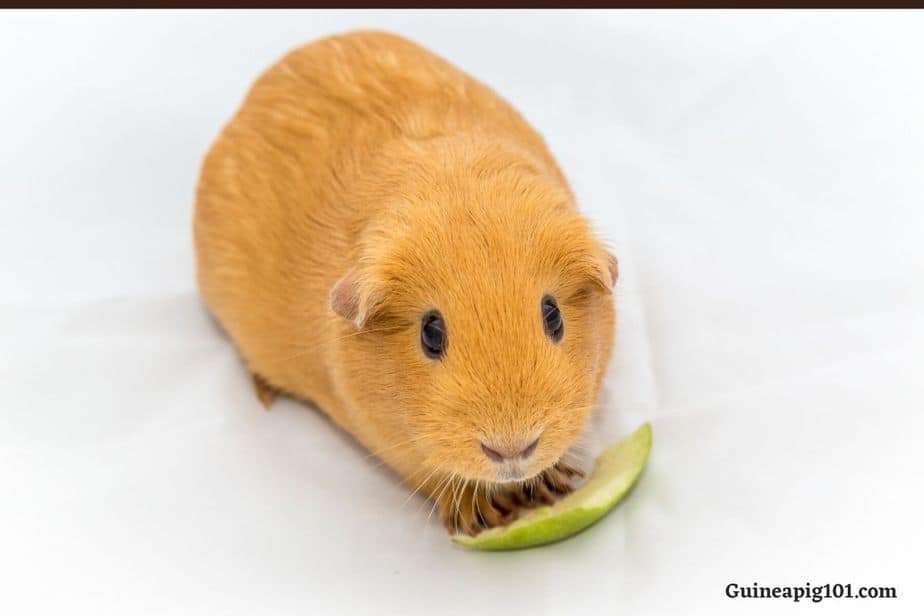 Providing your guinea pigs with a lot of floor time is essential.
Guinea pigs confined to a cage can get bored and stressed pretty quickly, especially when there are no cage mates.
Providing them with some time out of their cage in a room which is made guinea pig proof is crucial.
Taking them out of the cage helps in bringing a change in the environment which refreshes their mood.
Just make sure the room is made guinea pig proof with some familiar hiding spaces, No open circuits or wire to chew on and no way to escape from the room.
Guinea pigs can get notorious and hide all-around your house if they find an escape from the room.
Interacting with your guinea pigs when they are out of their cage will make them happy. They are also curious in nature and will love to explore around your room.
You can sit there talking to them and playing with them so that they feel calm in the new environment.
You should at least provide 2 hours of floor time daily to your guinea pigs. It is even better if you can divide the time into two halves or even four throughout the day.
Although it might not be possible for everyone so diving it into two halves works excellent as well.
If you happen to live with family or other roommates, you can also ask them to interact with your guinea pigs when you are away.
Doing so also works out great. Just make sure the person is not a stranger as your guinea pig might get terrified at first.
Is it ok to have one guinea pig?
No, I would not suggest you go for a single guinea pig.
However, if you find an aggressive or solitary guinea pig in a pet store or a rescue, then going ahead with them would be fine.
Always remember, sows like to be in a company while boars prefer more of solitary lifestyle.
Although social interaction is essential for both of them and having a cage-mate or more would do good in the long-term.
Also, make sure you go for a single guinea pig only when you have more than half a day to dedicate to your pig.
That shall ensure they get enough socialization and interaction and remain happy.
The product we loved personally.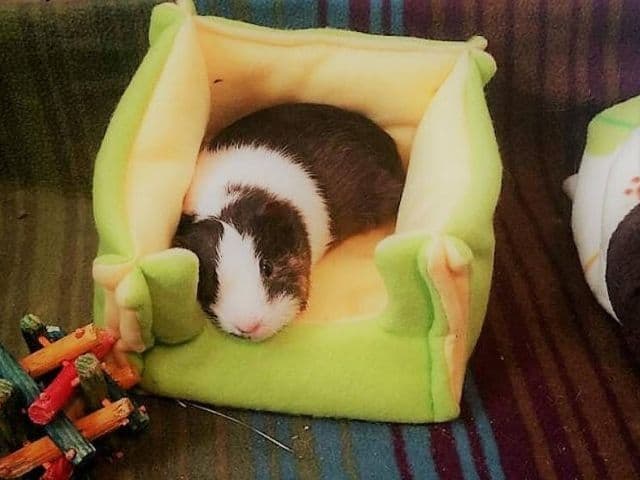 The Kelliscraftsandmore is an amazing store they have a huge variety of customized products as per your color and pattern. Fleece bed cuddle cup for guinea pigs has been comfortable to relax and sleep. It can be turned upside down for hideout.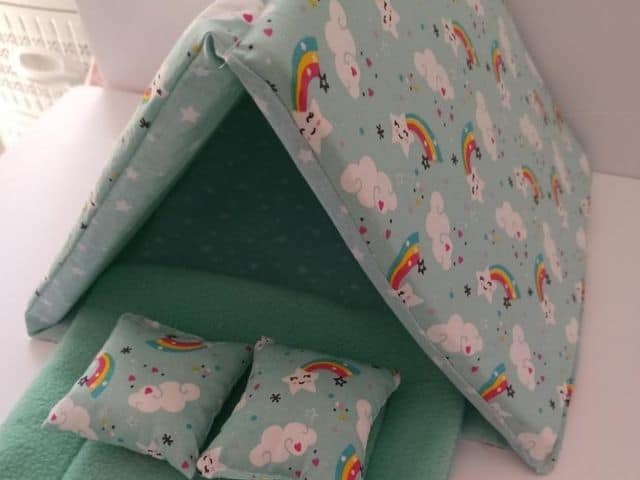 Tepee for guinea pigs is so comfortable to guinea pigs that they start popcorning when they see the bed. Keep doing in and out, it is a stress buster for my guinea pigs. The smallanimalcreation stores have a huge variety of beds for our furry pets.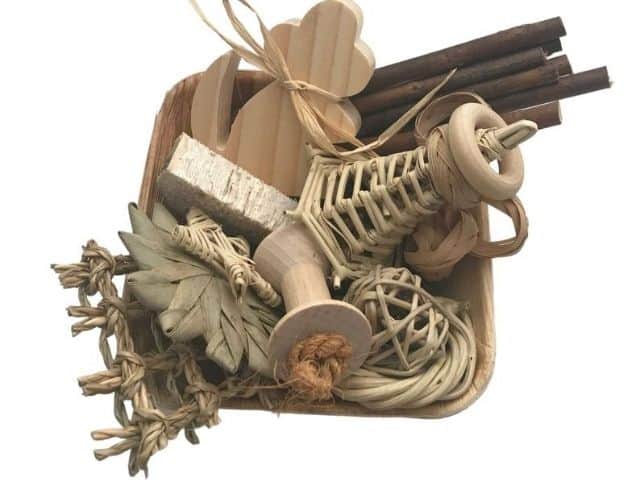 Natural Chews Gift Basket For Guinea pig, that is also a great chew toy. This basket has many textures and chews that are great to find out your pet's preferences. Check out the WinniGuineaPoo store for other fun toys and accessories.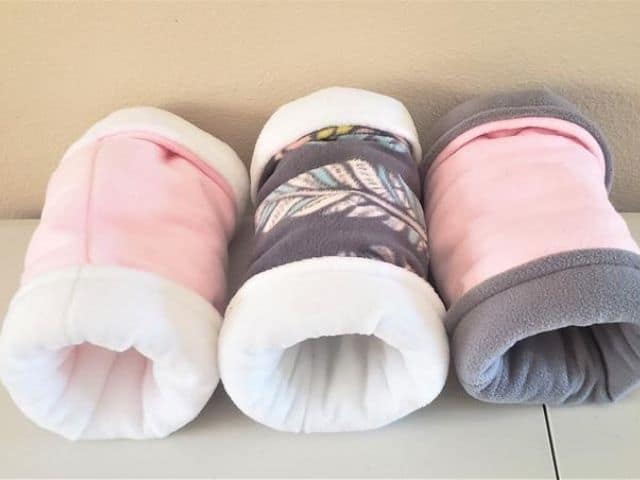 The CuteCritterShop store is one of has variety of tunnel, bed, and pillow. Reversible Fleece Tunnel for Guinea Pig is super comfy and cushiony tunnels for your little best friend to run through or sleep in.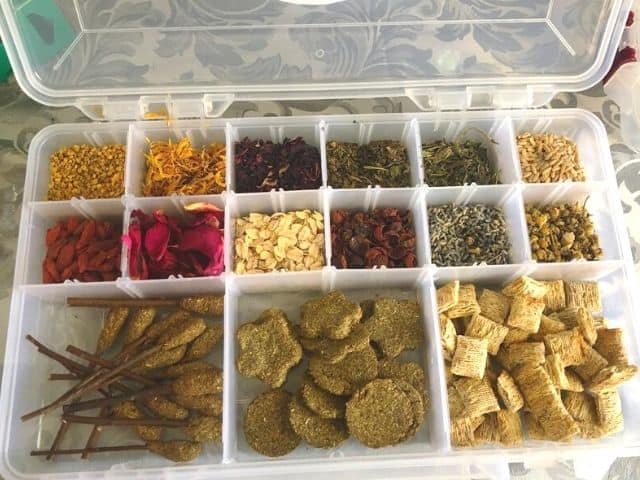 Guinea pigs are always impressed with Guinea Pig Treat Bundles, they love having it. All the treats are organic and safe for cavies. The PandamoniumPets offered a variety of Safe Handmade Pet products.