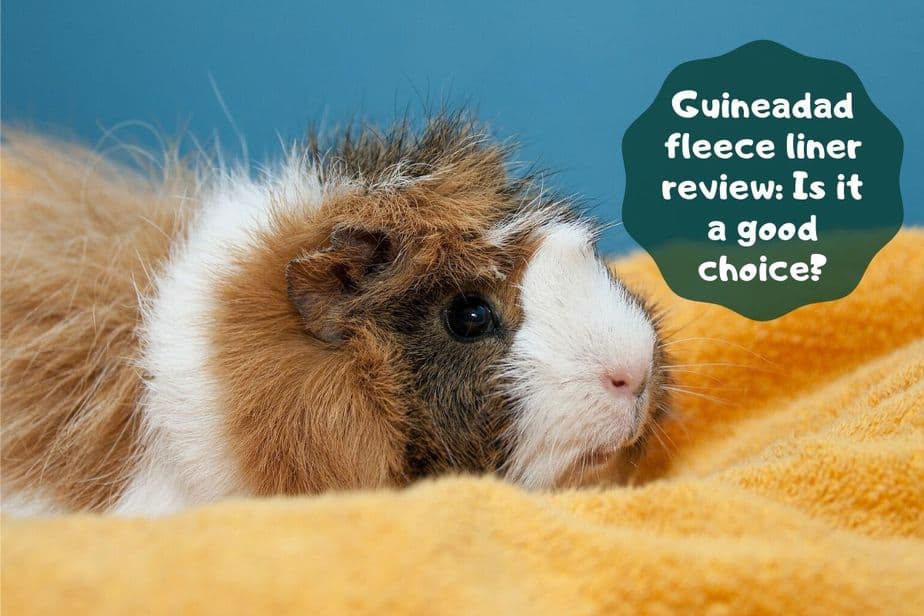 Bedding is the most crucial part of the habitat, which ensures our guinea pigs remain safe and healthy for long.
There are a variety of bedding materials and products available in the market, which can make the choice further difficult.
So, today I decided to review Guineadad fleece liner, which is a popular choice of bedding used by a lot of guinea pig owners. If you are here just to know whether it's worth your money or not then here you go:
If you are looking for an excellent quality bedding that is Super absorbent & odor-free, then Guineadad fleece liner is the perfect choice for you. Although they are a little pricey up front, they are one of the most economical choices in the long run.
However, if you want an in-depth review I would suggest you read this review till the end.
Some of the salient features of Guinea pig fleece liners are:
Key features
Waterproof bottom will keep your cage dry.
Made with natural bamboo blend, perfectly safe for our piggies.
Antibacterial and odor-resistant material.
Durable and precise finish resulting in a high-quality product.
Burrow pocket for your guinea pigs to burrow into.
With the basic features out of the way let us have an in-depth look at the product and the company itself.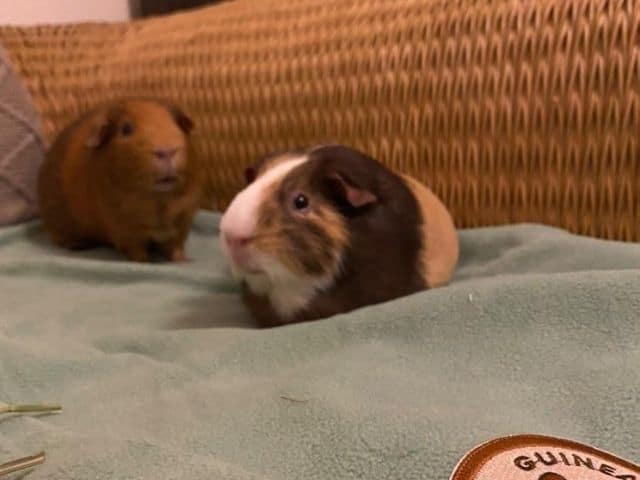 Please note: Guinea pig 101 is reader-supported. As an Amazon Associate, I earn from qualifying purchases made by our readers with no extra cost added to you all! Some links in the post are affiliate link and I get commission from purchases made through links in the post.
Before you read further, Here are some of our popular books that provides you great value. You don't want to miss them out!
Guinea Pig Diet Plan: A Complete Guide To What Your Guinea Pigs Can Eat
In-Depth Understanding Of All Aspects Of Their Diet

List Of Vegetables And Fruits Guinea Pigs Can Eat

Importance Of Vitamin C and Calcium+ How To Balance It

Toxic Food To Our Guinea pigs

Water For Your Guinea Pig (How It Can Lead To Bladder Stone)

4 Complete Diet Chart To Follow With Veggie List
Guinea Pig Care Book: A Definitive Guide
Learn All About Setting Up Perfect Living Environment

An Overview Of A Guinea Pigs Diet

Understand Common Behavior And How To Deal With It

An Insight On Common Health Problems And What To Do About It

A Complete Care Guide To Keep Your Guinea Pigs Healthy and Happy

Covers All The Practical Aspect Of Keeping Guinea Pigs
Guinea Pig Coloring Book: Let Your Anxiety Go Away!
50 Unique Coloring Designs

Only One Design Per Page

Printed On Good Quality White Paper With Glossy Cover

Sized At 8.5x11, A Perfect Size To Color And Frame!

Hours Of Fun And Relaxation For Adults As Well As Kids
About the company?
Guineadad was founded by Si Lee & Sean Hahn a few years back with the motto to "help piggies live life to the fullest."
The story started a few years back when one of the guinea pigs named Tofu soon got bacterial conjunctivitis.
The duo owners looked out in the market in search of the right quality product for bedding for their guinea pig but found none.
They tried a lot of DIY solutions, but none were reliable for the job. Thus, the idea for the product and company came up.
Looking at the quality of the products, it is apparent that they have worked hard to design the product keeping the essential nature and behavior of guinea pigs in mind.
And after trying out over a dozen different brand, I can say that their product are pretty standard as compared to others.
Does Guineadad's fleece actually smell?
Many people who have used fleece beddings in the past believe that the bedding material, in general, smells a lot.
Yes, that might be true with other inferior quality products available in the market or with those cheap DIY ideas they have tried earlier.
However, the reality is far different from these excellent fleece liners from Guineadad. These liners are designed by keeping the nature of guinea pigs in mind. Thus they come with a three-layer build.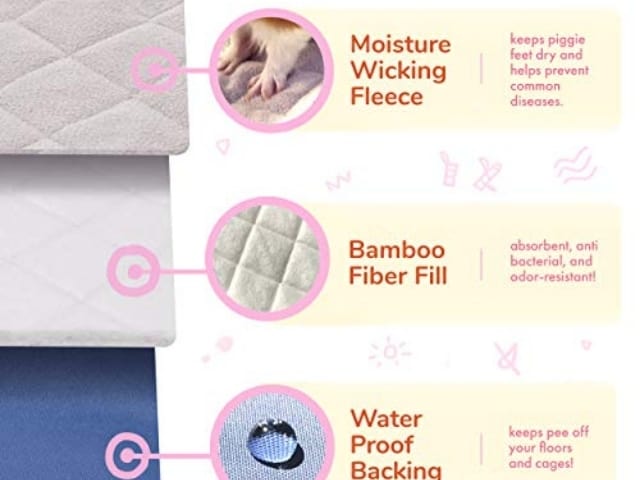 The first layer is polyester made fleece, which passes all the moisture below and remains completely dry.
The second layer is a bamboo blend super absorbent layer that soaks up all the wet spots and keeps the fleece completely dry and odorless.
The bamboo also has an anti-bacterial and anti-fungal property in it. The last layer is basically a waterproof back made with a polyester mix that aims to keep the base of your cage completely dry.
It is extremely important to keep the base dry, especially if you use a wooden cage as it can develop molds if the pee soaks to the bottom of the cage.
Learn more about guinea pig smell from our guide if you have a problem with a smelly cage.
Recommended Supplies For Guinea pigs: Our Top Picks!
Before you learn more,here are some hand-picked supplies for your guinea pigs that you must add to your wishlist today:
Pros of Guineadad fleece liner
There cannot be a better way to know if the product is worth it or not other than comparing all the pros and cons of the same.
So, let us begin by having a look at some of the pros of Guineadad fleece liner.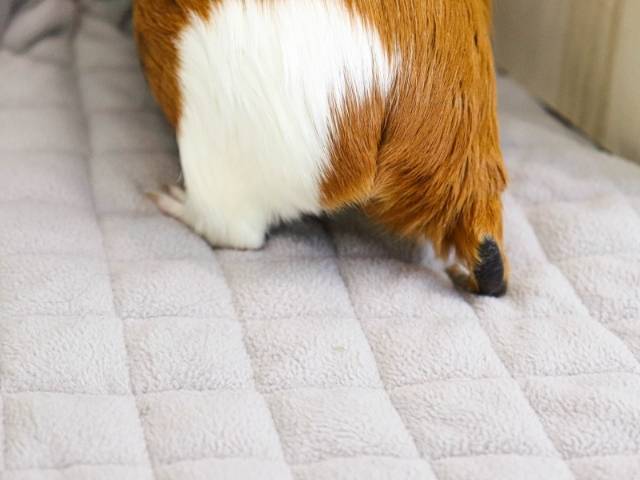 Super comfy
When it comes to the choice of bedding, choosing a comfortable one is extremely important.
Guinea dad beddings are made with comfort and safety of your guinea pigs in mind.
Bedding for guinea pigs are just like bed liners for us, if they are not comfortable it would be very difficult to have a good night sleep.
Thus, make sure your guinea pig is comfortable and happy with your choice.

Super-absorbent
The second important reason why we use bedding in our guinea pig's cage is to keep our guinea pigs feet dry.
Say, you use straw or wood shavings as bedding layer. When your guinea pig pees frequently, it collects at the bottom of the cage making the bedding soaked up and your guinea pigs feet wet. This can lead to some severe diseases like respiratory infection & bumblefeet in guinea pigs.
Guinea dad fleece liners are made with super absorbent layers which keeps the top layer dry and absorbs everything your guinea pig excretes out. Thus, a perfect choice for the need.

Odor-free
As there is no leftover pee lying around the cage the point of smell doesn't arise at all.
Every drop of pee is absorbed and lock in the bamboo blend layer which soaks up everything and thus it prevents foul odor around the cage.

Perfect fit
I have tried DIY fleece beddings in the past and one of the most common problem I struggled with was guinea pigs burrowing under them and making a mess out of it.
Since the liners were not perfect fit the guinea pigs had enough spaces to find an entry and make a mess around. With Guineadad fleece liners, I bid bye bye to this problem forever.
The liners come a little extra in size to allow for shrinkage and fits perfectly on most cages. Whether it is the popular midwest cage, A DIY C&C cage or anything else. You will have a product for your size.
The liners also comes with a pocket on the sides wide enough for your guinea pigs to burrow. My guinea pigs love to burrow and pee and poop at that spot. It makes the cleaning a little easy as most poop is collected in a spot.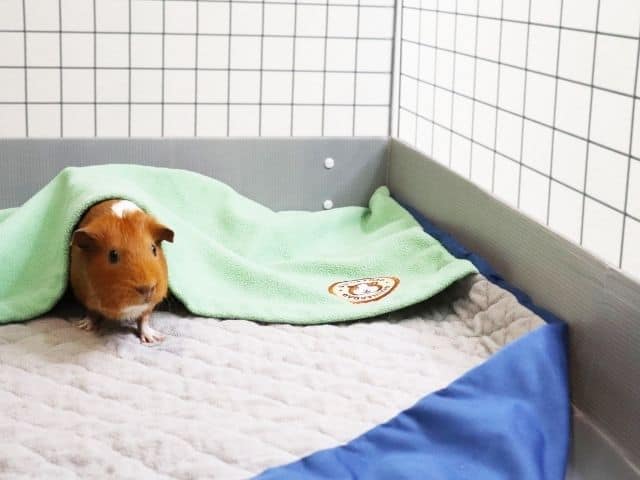 Economical
Most people think that Guineadad fleece liners are realy costly and not for everyone however if you do the math correctly you might realize how wrong those thoughts are.
Guineadad liners may be costly up-front but are extremely economical in the longrun.
Let's see that with an example: Say you have a midwest cage, If I buy any popular brand paper bedding it would cost me around 5-6$ worth of bedding material every week(considering a deep clean every week).
Now if you go with a pair of guinea dad liner(One extra for replacement to make weekly cleaning reall easy) then it would cost you around a 100$.
So, that means the liners pay itself off within a year. They easily last for 3-4 years if taken care off properly.
Thus, you have free bedding for next 3 years. I can't find a bedding material that is as economical as this one.
Yes, there is some maintenance cost everyweek for laundry but thats pretty negligible compared to getting a bag of bedding every month.

Easy to maintain
Guinea dad fleece liners are really easy to maintain. I find it better than the paper bedding options.
Paper bedding or aspen bedding used to get all over around the cage area as guinea pigs used to move them around or when we used to bring our guinea pigs out.
There is no such mess with guinea dad fleece liners. Even the hay sticks to it and doesn't blow everywhere around since I started using it. Another important factor is how easy it is to clean and replace.
You can use a brush and pan or a vacuum and spot clean the cage quickly.
Spot cleaning the cage is very tedious with other bedding options. Even deep cleaning is relatively simple when you are using this liner.

Cons of Guineadad fleece liner
Yes, where there are pros, there are cons of everything as well. Let us also have a look at some of the cons of Guineadad fleece liner.
Costly up-front
It is one of the most apparent cons for some people. The liners are costly when you compare it head-to-head with other types of bedding options.
However, with other bedding options, you might need to invest every month while it is a one-time investment for years to come.
Even if you go with the DIY route, the maintenance and reliability of those puppy pads and pee pads are not as much as these professionally crafted liners. However, you might need to save a whole lot before you can get one.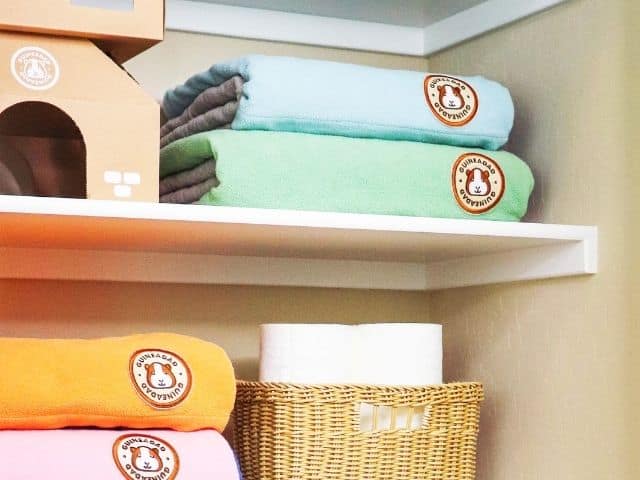 Need a extra pair always
You might feel like you will get away by buying a single liner, doing laundry weekly, drying them up, and placing it back in the cage the same day. However, it is not that easy.
The liners are not meant for quick-drying, and naturally drying them takes hours, and you know how messy your guinea pigs can make a place in that time frame.
You might need to get a pair to replace the liner and wash the soiled one as per your convenience.

Laundry can be a problem in some apartments
One of the common problems which many owners face is they live in an apartment and share a common laundry place with other people living in there.
If you live in such an area, then getting your laundry for your guinea pigs liner can be tough.
The apartment rules or people from society might restrict you from washing your liners in a commonplace.
You might need to consider washing them by some other means. Thus, it can be troublesome for some owners.

Guineadad fleece vs. other popular beddings?
| Factors to Consider | Guineadad fleece liner | Carefresh paper bedding | Kaytee Aspen Bedding | DIY Fleece bedding |
| --- | --- | --- | --- | --- |
| Safe for guinea pigs | Bedding material is 100% natural and safe for our piggies. | The bedding material is safe for guinea pigs. | Aspen bedding is also considered safe for piggies. | It depends upon the type of bedding material used. |
| Comfort | The bedding material is designed with comfort of our piggies in mind. | The material is comfortable but as days pass it gets heavier and mushy. | The bedding material is comfortable as it feels natural however it does contain some irregular size pieces in it. | These liners are comfortable. However it can get messed up pretty easily as guinea pigs try to burrow under it. |
| Cleaning required | Daily spot cleaning with a weekly wash can keep the liners neat and tidy | Needs spot cleaning and weekly change to prevent smell | Needs daily upkeep and change in 5-6 days as well. | Needs daily maintenance and a deep clean in 5-7 days depending upon the material used. |
| Absorbent | The three layer technology makes the middle layer super absorbent and keeps the upper layer completely dry. | Yes, the bedding material is absorbent however all the pee can reach the bottom layer of the cage. | The bedding is not super absorbent but does the job. | Depending upon the material used, most DIY fleece liners does seems to struggle with absorbing the pee and holding it. |
| Odor control | As all the pee is absorbed and hold in the middle layer which has bamboo blend in, the odor is minimum for at least a week. | As the pee builds up, the material starts emitting some odor after a few days. | Since it doesn't absorb the pee very well some odor is quite normal in aspen bedding. | DIY fleece bedding do control the odor but definitely not upto the mark. |
| Chemical or artificial color | It is made up of 100% natural material. | It does contain some artificial coloring in it. | It doesn't contain any harmful coloring or chemical in it. | It doesn't contain any harmful chemicals as well in most cases. |
| Dust or other allergen | The bedding is made up of anti-microbial and anti-bacterial material. | The bedding does contain some dust in it. | The bedding can be dusty sometimes. Avoid using it if your guinea pig has dust allergy. | The bedding is dust-free. |
| Ease of use | The bedding is fairly simple to use and maintain. | The bedding is easy to use but can be tough to clean up sometimes. | The bedding is easy to use however maintenance can be a little tricky. | The bedding is really tough to use and manage as everything doesn't sync perfectly. |
| Pack size | Available in a variety of sizes as per the size of the cage. | Available in variety of sizes however it is costly in smaller packs. | Available in a few pack size. | Needs to be custom designed to fit into the cage. Most cheap alternatives are either short or too big. |
| Economical | Costly upfront but no recurring cost and cheaper in long term. | Cheaper upfront however cost adds up to the monthly bill. | Cheaper upfront however cost adds up to the monthly bill. | Fairly cheap upfront. However the hassle and time to manage is makes it a bad choice. |
| Buy Now | Buy now on Amazon | Buy now on Amazon | Buy now on Amazon | Not recommended! |
What Guinea Pig Bedding Should I Use | GuineaDad
Conclusion: Should I buy Guineadad fleece liner?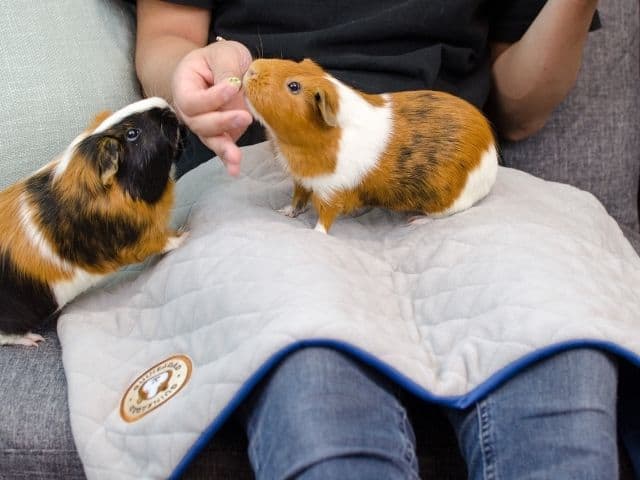 Yes, I would definitely recommend Guinedad fleece liner to all guinea pig owners out there.
If you want to give your guinea pigs a healthy & comfortable living environment, then Guineadad fleece liners are the way to go.
The fleece liners are made up of superior quality material, are super absorbent, and easy to clean as well.
If you are looking forward to buying fleece liners for your guinea pigs you should also buy this amazing laundry bag that can make cleaning these liners really easy.
The price is also pretty reasonable as you pay a fee upfront and can rely on it for years to come. Thus, a perfect choice of bedding to go for.
If you didn't find it right for you because of any reason, feel free to check out other options: Best bedding for guinea pigs in 2020.