If you are a guinea pig owner you might have already realized that your guinea pigs do need a bath once in a while. Although they are generally a low maintenance pet they do need some grooming and giving them a good bath is one of them.
So, now that you have learned that they need to be groomed and bath once in a while you might be wondering what you can use to bath them? What is the best shampoo available for them? Just hold on till the end of this article and I shall ensure doubt regarding the same is cleared.
What kind of shampoo should you buy for your Guinea pigs? Most experts recommend using a pet shampoo labeled for guinea pigs, kitten or other small animals. These shampoos are gentle enough for your guinea pigs skin and fur. Using a good shampoo is really essential to prevent rough and dry skin of your guinea pigs.
If you are looking for a quick list of best shampoo for your guinea pig, then below is the list for the same. But, if you want to learn more about what you can or cannot use as an alternative and more details on these products then I would request you to go ahead and read till the end.
Before you read further, Here are some of our popular books that provides you great value. You don't want to miss them out!
Guinea Pig Diet Plan: A Complete Guide To What Your Guinea Pigs Can Eat
In-Depth Understanding Of All Aspects Of Their Diet

List Of Vegetables And Fruits Guinea Pigs Can Eat

Importance Of Vitamin C and Calcium+ How To Balance It

Toxic Food To Our Guinea pigs

Water For Your Guinea Pig (How It Can Lead To Bladder Stone)

4 Complete Diet Chart To Follow With Veggie List
Guinea Pig Care Book: A Definitive Guide
Learn All About Setting Up Perfect Living Environment

An Overview Of A Guinea Pigs Diet

Understand Common Behavior And How To Deal With It

An Insight On Common Health Problems And What To Do About It

A Complete Care Guide To Keep Your Guinea Pigs Healthy and Happy

Covers All The Practical Aspect Of Keeping Guinea Pigs
Guinea Pig Coloring Book: Let Your Anxiety Go Away!
50 Unique Coloring Designs

Only One Design Per Page

Printed On Good Quality White Paper With Glossy Cover

Sized At 8.5x11, A Perfect Size To Color And Frame!

Hours Of Fun And Relaxation For Adults As Well As Kids
Please note: Guinea pig 101 is reader-supported. As an Amazon Associate, I earn from qualifying purchases made by our readers with no extra cost added to you all! Some links in the post are affiliate link and I get commission from purchases made through links in the post.
Best Shampoo For Your Guinea Pigs: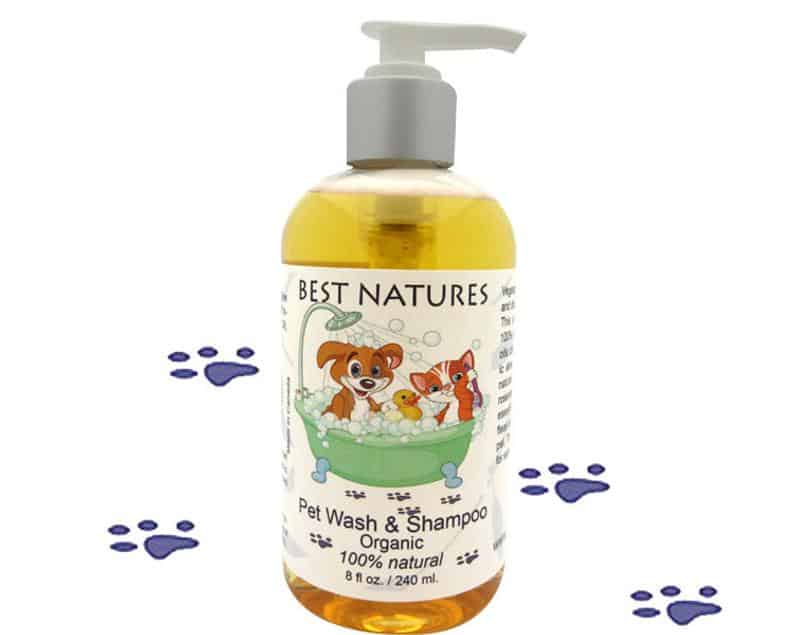 Can I use human shampoo on guinea pigs?
No, It is not recommended to use human shampoo on your guinea pigs. You might be tempted to save a few bucks by doing so as they don't need a bath very often but that might be a bad idea.
Human shampoo does contain various chemicals which can be fine for us but is definitely bad for your guinea pigs. Guinea pigs have very sensitive skin and eyes and these chemicals can easily cause harm to the same.
Guinea pig shampoo alternative
There is one exception as well as alternative of guinea pig shampoo which you can use on your guinea pig and that is Johnson's Tear Free Gentle Baby Shampoo.
If you happen to have this with you you can use this on your guinea pig. I have tried using it once in the past just to test out and it does seem to achieve the desired result. My guinea pig fur was all clear and shiny after using it.
However, it is recommended to use Special shampoo recommended for guinea pigs as they not only help in keeping your guinea pigs clean but also removes many parasites and mites stuck in the outer layer of skin.
Can I use Dawn dish soap to wash my guinea pig?
No, you should definitely avoid using dawn dish soap to bath your guinea pigs. It is appropriate to use a small drop to clean their grease glands if it goes gunky otherwise its wise to use only pets labeled shampoo to bath them.
You can learn more about guinea pigs grease glands and how to keep it clean in this article: A complete guide on guinea pig grease gland
Using dawn soap can cause severe skin damage and dryness in our guinea pigs. It can be used to remove gunky grease sometimes but should be totally avoided during a bath.
In most cases, it is recommended to only bath your guinea pig if their bottom gets extremely wet or pee and poop soil their fur. Unless necessary it is recommended to avoid bathing them.
How to choose a shampoo for your guinea pigs?
Choosing a shampoo for your guinea pig can be fairly easy. Unless you guinea pig is suffering from fleas or mites or any other parasites, a normal shampoo labeled for guinea pigs and other small animal might do just fine.
If your guinea pigs are suffering from any parasites or fleas it is best recommended to use medicated shampoo as directed by your vet.
Many people do use medicated shampoo just as a preventive measure to avoid such diseases but it is unnecessary to do so.
A good shampoo for small animals or guinea pig will do just fine in any normal scenario.
Recommended Supplies For Guinea pigs: Our Top Picks!
Before you learn more,here are some hand-picked supplies for your guinea pigs that you must add to your wishlist today:
How to bath your guinea pig?
Giving a good bath to your guinea pig is really essential. Bathing your guinea pig for the first time could be little stressful both for you and your guinea pig. So, I have decided to give you all a quick overview on steps you should follow.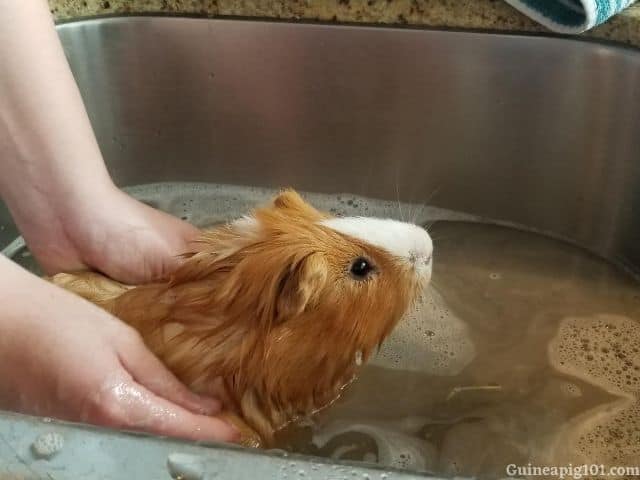 At first, you need to prepare a bathing area for your guinea pig. I usually prefer big sink in my kitchen. You can place a container filled with lukewarm water to make them comfortable. I also gather all the supplies like a towel to dry, some shampoo and coconut oil.
Next step is to place your guinea pig in the container slowly and let it adjust to the water for a couple of minutes.
Now once your guinea pig gets adjusted and is calm, you can pour some water on your guinea pig. Avoid cold water. Using lukewarm water is a great choice. Also, don't pour water over their head.
Now you can take a few drops of shampoo and lather it in your hands and apply it to your guinea pigs. Again the key is to avoid the face portion.
You can now rinse your guinea pig with warm water again. Try to clean out all the shampoo lather so that no chemical remains in their skin and fur.
Next, you can take them out, place them over a clean towel and wrap it around to dry them out.
You can also use a brush and a hair dryer to dry out and groom your guinea pig. But do it with caution to avoid any harm you can cause.
Finally, you can apply some coconut oil if needed to keep their skin moist and avoid any issue.
Recommend reading:
My chosen shampoo: Safe shampoo for guinea pigs
Fluppets Certified Organic Pet Shampoo
Fluppets Certified Organic Pet Shampoo is the best shampoo I have ever used on my Guinea pig and will definitely always be on the top of my list. It's made up of pure natural substances combined withe a long lasting smell of lemongrass and rosemary which gives a great fragrance.
Guinea pigs are prone to various skin problems if they are washed with shampoo containing certain chemicals. This shampoo is completely free of Parabens, Phthalates, Phosphates, Sulfates, Petrochemicals, Synthetic or Semi Synthetic Fragrances which makes it a top choice in the bucket list.
Although it doesn't lather up like other shampoos, it definitely cleans up the fur pretty well and leaves a great smell later on. It also leaves the skin and fur really smooth and soft which is not commonly seen in other cheap brands of shampoo.
No products found.
Kaytee Squeaky Clean Critter Shampoo
Kaytee is yet another popular brand when it comes to small animal products. This is a great choice for beginners. It comes in a size of 8 ounce bottle which can last you for several months as your guinea pig don't need a bath frequently.
No products found.
This shampoo is not completely natural but does the job well of cleaning the fur and the skin of your guinea pig. I found this shampoo a little bit strong than others. It also leaves a smell of baby powder after the bath which is really lovely.
This shampoo from Kaytee is pH balanced and tearless, thus your guinea pig will surely enjoy a bath with one of these.
G That's Awesome Brands Certified Organic Pet Shampoo
If you have a complaint of foul smell from your guinea pigs then you should definitely try this shampoo. This shampoo is made up of organic compounds, is mild on the skin but really tough on the odor.
If you ever felt like your guinea pig smells like a fish, or is really stinky anyways then using this would definitely curb the smell a lot.
G That's Awesome Certified Organic Pet Shampoo is definitely a great choice for pets with sensitive skin like guinea pigs. It definitely removes all dirt and odor from our guinea pigs and also as an added bonus is very mild on the human hands as well.
No products found.
Odie and Cody Organic Pet Shampoo
Odie and Cody Organic Pet Shampoo is a great choice of shampoo for guinea pigs who are susceptible to fleas and itch. This shampoo is made up of purely organic compounds, is gluten and cruelty free and comes up in a biodegradable recycled packaging which makes it a must try.
If you are afraid looking at the price, I would suggest to look at the quantity offered, It's about 16 ounces which can lat for years for your guinea pigs. Not only its one of the best value for money but also one of the most popular choices among pet lovers.
Additionally, the shampoo has a fresh smell of lemongrass which also helps keep away fleas and mites. It has a very mild smell and feels gentle on the skin of both guinea pigs and humans. I would definitely recommend this if you have more than a pair of guinea pigs as it is the best value for money for the quantity and quality offered.
No products found.
Arm & Hammer Tearless Shampoo for Small Animals
If you are on a tight budget and is looking for an awesome shampoo for your guinea pig then I can bet that no other alternative can beat the price and quality of this product.
The great thing about this shampoo is its tearless and is pH balanced which will remove all odor and dirt from your guinea pigs skin and fur. It also doesn't dry out the skin of your guinea pig which is an added bonus.
Although this product does contain baking soda which makes their fur feel fresh but can be a little too strong if left for long. So, it is recommended to rinse it in a short span of time. Rest assured it is a great choice for the price it is offered.
No products found.
If you want to learn more about guinea pig smell and ways to control it I would definitely recommend to go ahead and read this article: